#NinjaV
#DangMayer
#VirtualRigBuilder
#Animation
#Documentary
#MyAtomosRig with Dang Mayer and Virtual Rig Builder
March 25th, 2021
Dang Mayer recently created a VFX video of his Virtual Rig Builder, you can now watch that video above. Additionally Dang put together a short BTS for us to demonstrate and explain the process of how he created this VFX project.
Dang also took some time out with Atomos' Shaki Prasanna to discuss the project and answer a few questions about his experience on the project, plus his experiences with Atomos products.
How did find yourself working on this VFX project? Where do you get these DIY ideas from?
I've always been fascinated by these VFX videos that make the impossible possible! The idea came to me when I was thinking of ways to show my rig in a different way or I would say something that needed creative thinking. Since I'm a fan of Ironman, I finally came up with the idea of showing this video with a virtual HUD. So I watched some tutorials online and was able to expand my skills.
As a content creator, what do you do outside the ordinary to make your work stand out?
I think of how I can best visualize the advantages of having something; if I was interested in a particular product for instance, what would I find cool? Then I do my research to see if something similar to my idea already exists, if not I get to work!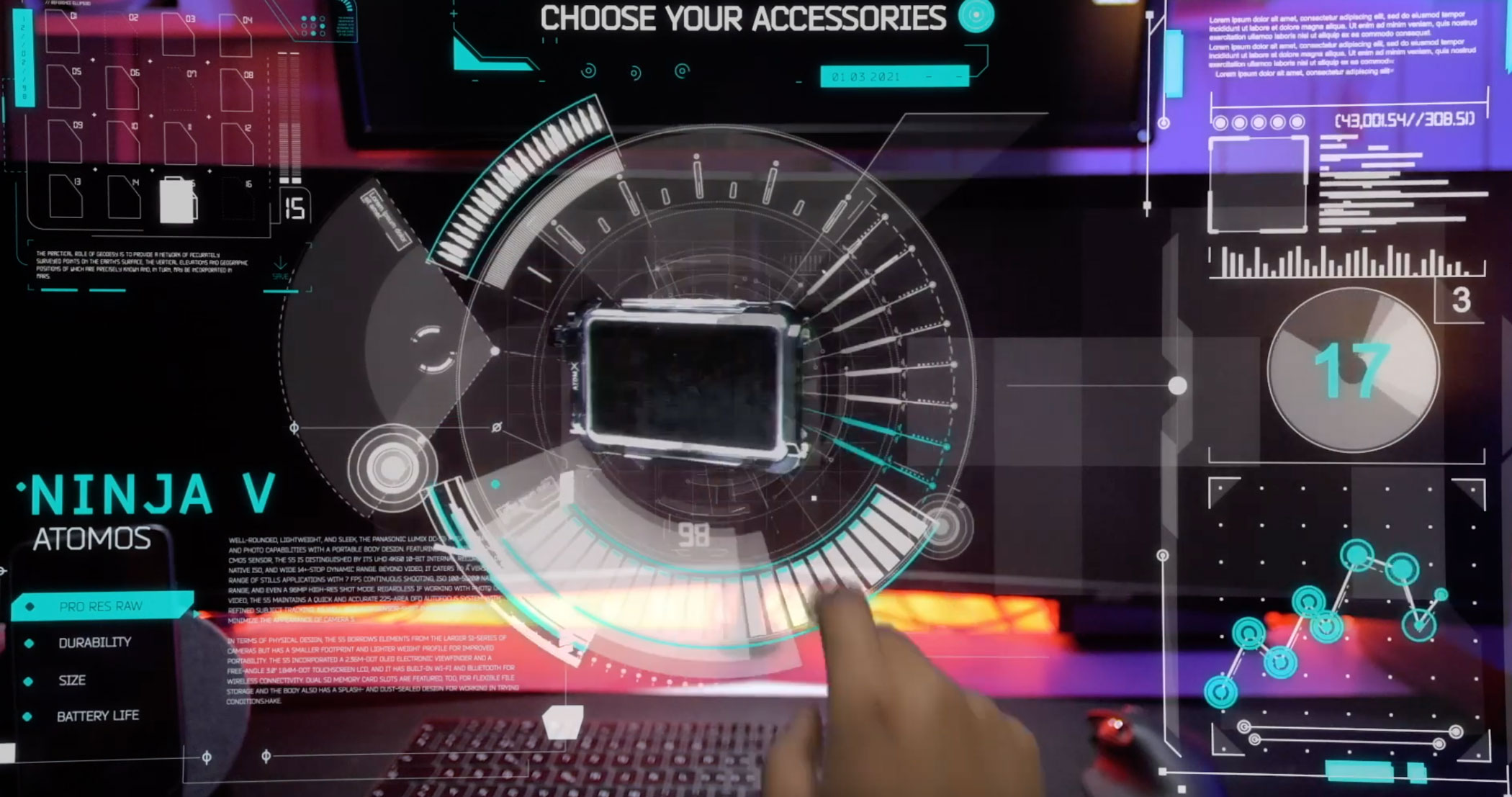 You recently mentioned you upgraded to Panasonic S5 so you can use ProRes RAW with the Ninja V. How do you think this codec will help you with creating VFX?
I think one of my favourite advantages of ProRes RAW is that it can tolerate mistakes made on set, which you can correct in post-production. It's similar to photography – such as wrong white balance or underexposed / overexposed? No problem! Even with my first attempts in VFX, ProRes RAW made the follow-up work a lot easier for me because I did not expose the green screen in an exemplary manner.
How have the Atomos products aided your workflow?
The ability to record on SSD and not have to use expensive SD cards is a huge advantage. During the recordings, of course, the great functions such as False Colour or Waveform help me and in post-production, my speed has increased enormously thanks to the ingenious ProRes codec!
What Atomos function do you use that you can't get from your camera?
False-colour and for social media content I'm using the social frame guides a lot!
What features do you use most on-set and for what reasons?
Of course, I use the opportunity to record with 4K 60fps 10-bit ProRes 422 mostly, this gives me enormous freedom in post-production and the best possible quality! Then the great functions to monitor my exposure and framing.
What is your one go-to advice to another fellow content creator?
If you want to optimize your workflow, get the best possible quality out of your cameras and have more options in post-production. The Ninja V or Shogun 7 will help up your skills and will let you think outside the box.
Dang Mayer
Dang Mayer is a part-time content creator based in Switzerland. Starting with GoPro videos from the vacations, his passion for video and photography has grown steadily over the past three years. With his trademark, the low-key product photos and videos of camera equipment, more and more brands such as Rode, Smallrig, Nanlite and Atomos became aware of him on Instagram, for who he now has a content collaboration with. Event after movies are also part of his work, however, this has come to a standstill due to the Covid-19 pandemic. He is currently creating digital content for a new digital motorcycle platform (theriders.ch), beautiful real estate videos and advertising films for various companies as a one-man army.
His goal is to become a full-time content creator soon and to make his customers happy with outstanding content.
Find out more here:
Atomos products used
Below are the Atomos products involved in the production of this video.
Spark a creative journey.
Join the Atomos Community.