Back to all Cameras
Nikon Z6
This device is in our compatibility list because it has a "clean output" i.e. no menu information on the sensor output. By understanding what your device can output in the terms of resolution, frame rate and connectivity you'll be in a better position to understand the best Atomos device for you.
Atomos Ninja V & Nikon Z6
Experience Full-frame RAW over HDMI
See how Z 6 + Ninja V + ProRes RAW captures exquisite colors and details.
The Nikon Z 6 is the world's first camera to record RAW over HDMI with the Ninja V. The combination is also the first full-frame RAW video setup with in-body image stabilization. Shoot incredible moving images with the quality and flexibility of Apple ProRes RAW in stunning 12-bit 4K UHD resolution.
The Z 6 is a mirrorless marvel that shoots amazing 24.5 megapixel stills and 4K video. Out of the box it outputs up to 10-bit 4Kp30 Log video over HDMI to any current Atomos monitor/recorder. With the addition of Nikon service upgrade procedure* it can also output RAW video over HDMI to the Ninja V**.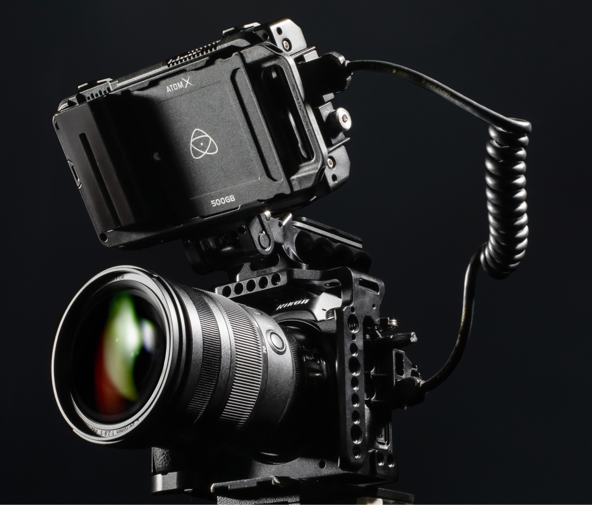 Shoot ProRes RAW, shoot ProRes, shoot DNxHR – you choose
The Ninja V gives the Z 6 multiple options for recording professional video. Choose the codec and the quality you need for the job in hand.
Record ProRes RAW and ProRes RAW HQ at UHD 4kp24/25/30 or 
1080p24/25/30/50/60 * requires Nikon service upgrade procedure


Record ProRes 422 LT, 422 or 422 HQ at UHD 4kp24/25/30 or 
1080p24/25/30/50/60


Record Avid DNx at UHD 4kp24/25/30 or 1080p24/25/30/50/60
RAW in action
Watch DP Elle Schneider shooting new music video 'Lovesick' with artist Isla June using ProRes RAW with the Z 6 and Ninja V.
The Ninja V and Z6 Combo
The Ninja V allows users to accurately monitor the Z6 RAW signal on its daylight-viewable 5″ HDR screen, previewing it for HDR in a choice of HLG and PQ (HDR10) formats. It offers touchscreen access to tools like waveforms, magnify or enlarge.
Recording RAW with the Ninja V
Recording RAW traditionally requires proprietary media, huge date and high costs. The Ninja V can use affordable AtomX SSDmini media to create 4K RAW content economically. These drives use industry standard SATA connectors and are only 7mm high and 80mm long.
Visit www.atomos.com/drives to see the full list of compatible drives.
Product Specifications
Nikon Z6
---
Connection

HDMI Connector Type

Mini

HDMI

True

Internal Recording

Bit Depth

8-bit

Chroma subsampling

4:2:0

Output Recording

Video

10-bit 4:2:2

RAW

12-bit linear

Trigger & Timecodes

SDI Trigger

None

SDI Timecode

No

HDMI Trigger

Atomos protocol

HDMI Timecode

Atomos protocol

Audio Output

Embedded HDMI

2ch

3.5mm mini jack

2ch

Audio Input
3.5mm mini jack


2ch

Embedded HDMI

None

Resolutions & Framerates

HDMI video 4K UHD

24p, 25p, 30p

HDMI video HD 1080

24p, 25p, 30p, 50i, 50p, 60i, 60p

Notes

N-Log supported on AtomOS 10 on Ninja V
Atomos Product Suggestions
Based on your camera selection, we suggest the following complementary Atomos product.
Spark a creative journey.
Join the Atomos Community.