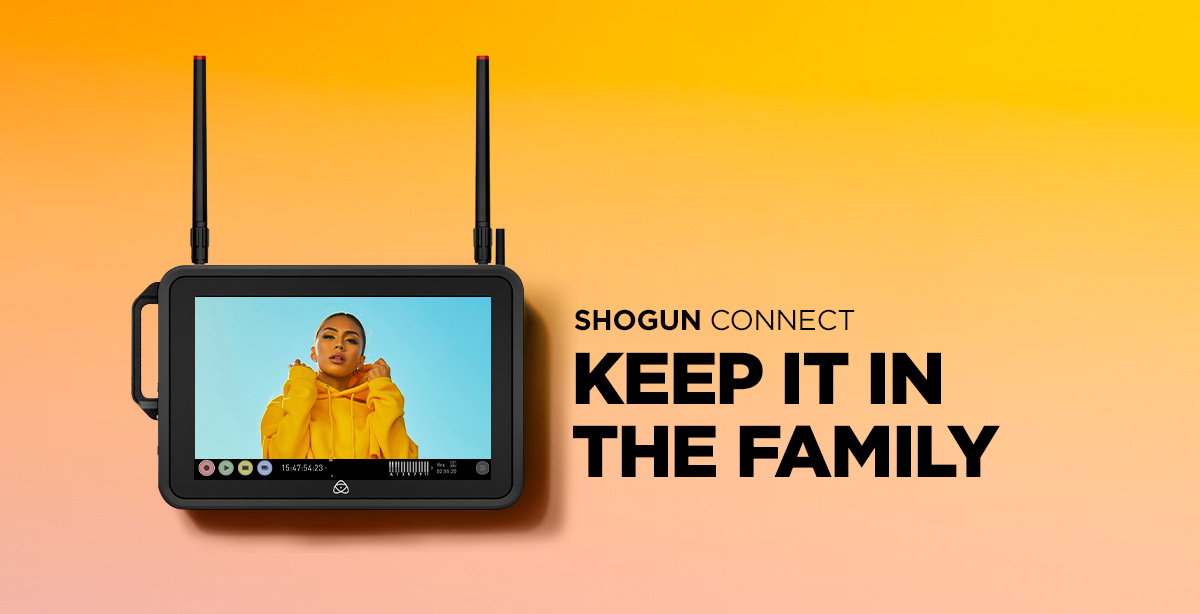 Keep it in the Family
A new generation of connected workflowshas arrived
Registered owners of qualifying 7-inch ATOMOS devices receive $100 cash back plus, NDI® activation and an additional 3-month subscription to ATOMOS Cloud Studio for free on every pre-order of the SHOGUN CONNECT. Offer valid on all pre-orders until the 30th June, terms and conditions apply.
---
Everyone at ATOMOS has been thrilled by the overwhelmingly positive response to the announcement of the new SHOGUN CONNECT at the 2022 NAB Show. It's great to receive awards and receive recognition by industry peers. Even more exciting is what the new device means to ATOMOS customers and how they will use it to transform what they can do with professional cinema, mirrorless, and DSLR cameras and take advantage of the new next generation made possible by ATOMOS Cloud Studio. With the SHOGUN CONNECT, they will be able to access ATOMOS Capture to Cloud, which provides the fastest, most flexible integration with Frame.io Camera to Cloud (C2C) and ATOMOS Stream, to livestream directly to Facebook Live, Twitch, YouTube, and more. 
When ATOMOS Cloud Studio launches, it will be completely free for the first 3 months. From September 2022, ATOMOS will introduce subscription tiers. Pre-order a SHOGUN CONNECT now and receive an additional 3 months of ATOMOS Cloud Studio. 
SHOGUN CONNECT is the first all-in-one device to arrive from the new CONNECT range of products, featuring HDR monitoring, RAW recording, and a connection to the world. It builds on the ground-breaking SHOGUN product-line, featuring a brighter 7-inch screen, as well as options for recording in multiple formats including Apple ProRes, Avid DNxHR/HD, HVEC (H.265), and Apple ProRes RAW. SHOGUN CONNECT offers a loop through 12G SDI IN and OUT interface with an option to activate SDI RAW and send a signal to multiple devices, ATOMOS AirGlu™ wireless timecode for seamlessly synchronizing all cameras, multiple power options to accommodate a variety of on-set scenarios, plus Wi-Fi 6, Gigabit Ethernet, Bluetooth LE, and USB C to ensure flexible, all-round connectivity.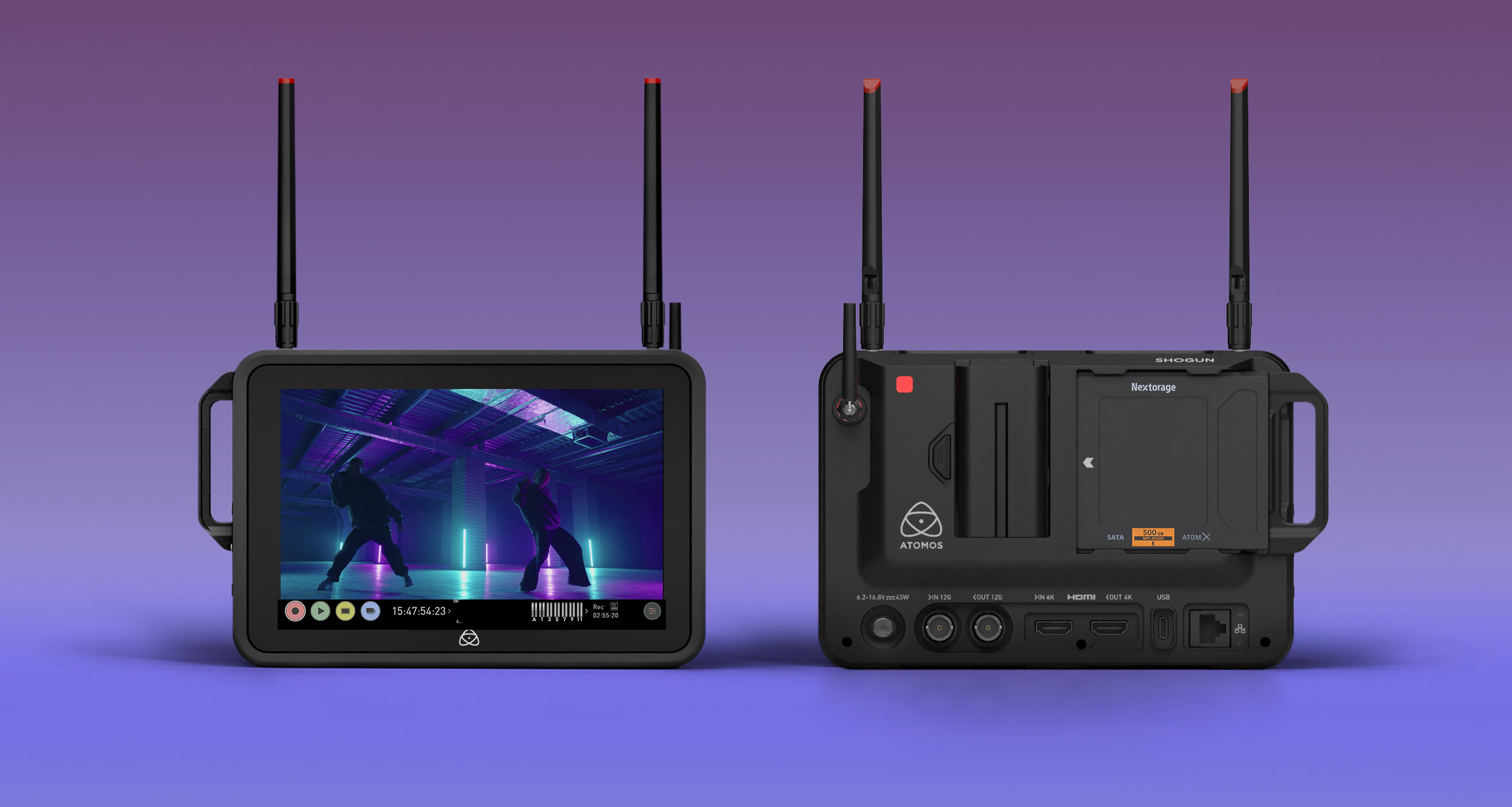 ATOMOS has also partnered with NDI® to support high-efficiency transfer of video between devices. NDI® technology has been developed to make communication between devices easy to setup, provide refined encoding, and deliver frame accurate video. The standard supports both low bandwidth and low latency options. With NDI®|HX3 encoding is visually lossless, even in bandwidth constrained situations. Registered customers of the ATOMOS CONNECT will be able to activate activate NDI®|HX* support (worth $/€99).
To make it easier for customers to access these new workflows – For a limited time, registered owners of SHOGUN, SHOGUN Flame, SHOGUN Inferno, SHOGUN 7, NINJA Inferno, NINJA Flame, or NINJA Assassin devices can apply to receive $100** cash back, NDI®|HX activation and an additional 3-month subscription to ATOMOS Cloud Studio for free on every pre-order of the SHOGUN CONNECT today. 

---
How to participate and claim
Pre-order the SHOGUN CONNECT from your local reseller.

 

Once you have completed your pre-order, log in to your my.atomos.com account with your username and password.

 

 

In the SHOGUN CONNECT Keep it in the family promotion pop-up on your my.atomos account provide the name and country of the reseller you pre-ordered your SHOGUN CONNECT unit from.

 

Once you have completed the pop-up form you will receive an automatic email confirmation from 

[email protected]

 Within this email you will receive an email with a unique link. Please ensure you save this email somewhere safe. You will need to use the link provided to complete your cashback request once you order and receive the product. Use this link only when you have received the purchase invoice of your SHOGUN CONNECT. 

 

Once in stock with your local reseller please proceed with the purchase of the SHOGUN CONNECT from your local reseller.

 

Once you have received your purchase order invoice for the SHOGUN CONNECT from your local reseller, please complete the form attached to the

 pre-order e-mail confirmation, provide the requested data and submit the purchase order invoice of your unit.

 

Once the cash back has been processed you will receive the $100 USD cash back into your PayPal account. Please note 

Payment will be made in USD ($) and converted to local currencies by PayPal and exact amounts will be based on published exchange rate at the time of the transaction

.

 

You will be notified when you are entitled to receive your NDI® free activation (when NDI® is made available by ATOMOS) via your my.atomos account.

  

 

You will be notified via email from ATOMOS when you are entitled to receive the extended 3-month ATOMOS Cloud Studio for the months of; October 2022, November 2022, and December 2022.

 
Click here for full Terms & Conditions.
Read more
my.atomos.com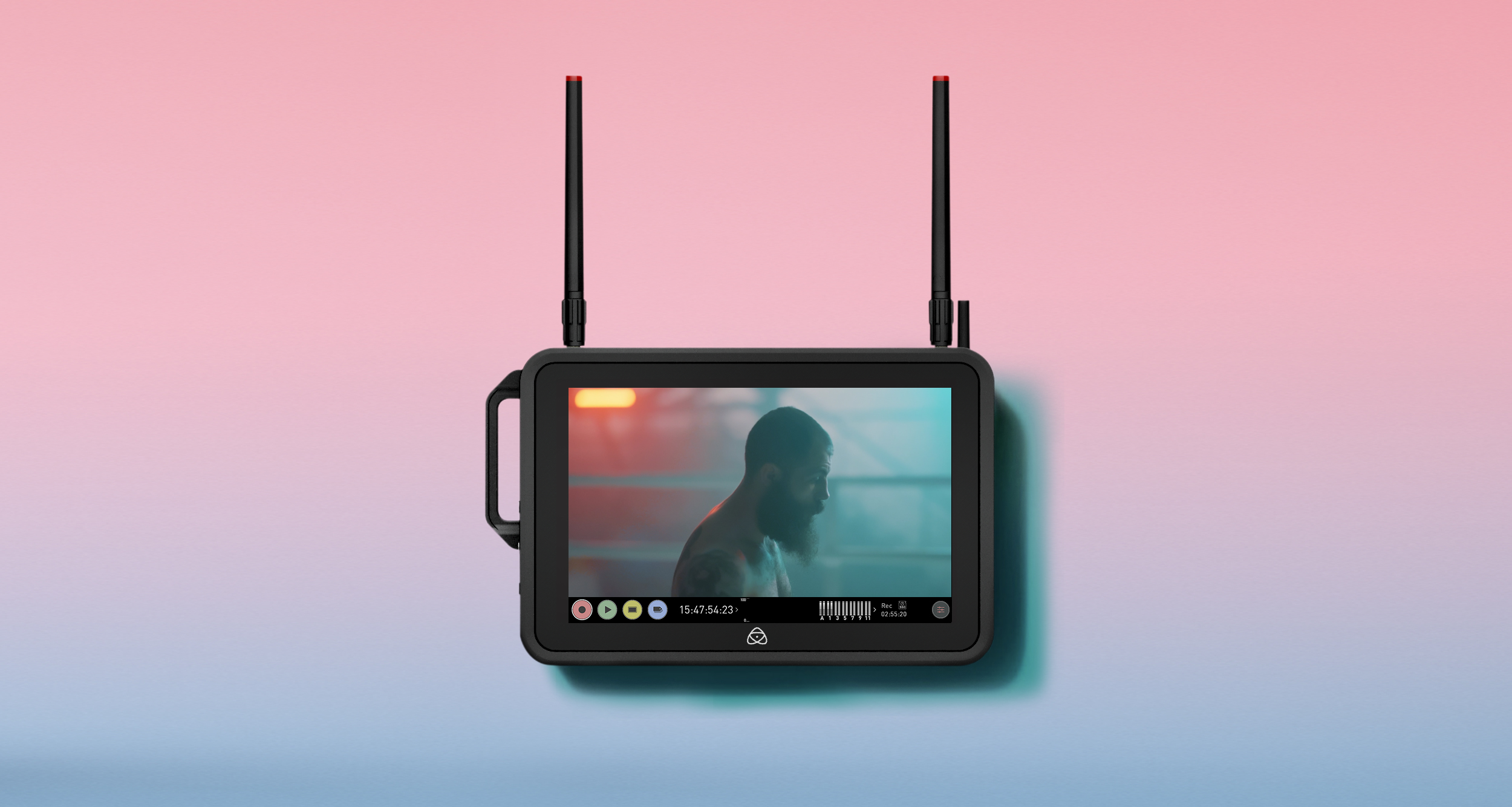 Spark a creative journey. Join the Atomos Community.