Ninja V+ Pro Kit
The next level
The Ninja V+ Pro Kit has been designed to bridge the gap between compact cinema and mirrorless cameras that can output RAW via HDMI or SDI. With all the power of the Ninja V+ for 8Kp30, the Pro Kit adds 4Kp120 and 2Kp240 continuous recording via SDI. The Ninja V+ takes advantage of new Atomos Silicon AtomIC3, AtomOS 10 and the incredible efficiency of ProRes RAW to deliver these increased resolutions and frame rates. The new formats also integrate seamlessly into the timeline of your existing ProRes RAW or ProRes projects, without huge storage or processing overheads.
Ninja V+ Pro Kit and 4Kp120
The Ninja V+ Pro Kit comes packed with camera accessories and enables 4Kp120 ProRes RAW recording mode from the SDI RAW output of the Sony, FX9* and FX6. Both Atomos and Sony users will now be able to experience the benefits of working with images at a high frame rate and resolutions, whilst recording in pristine ProRes RAW.
*The FX9 requires the XDCA-FX9 Extension unit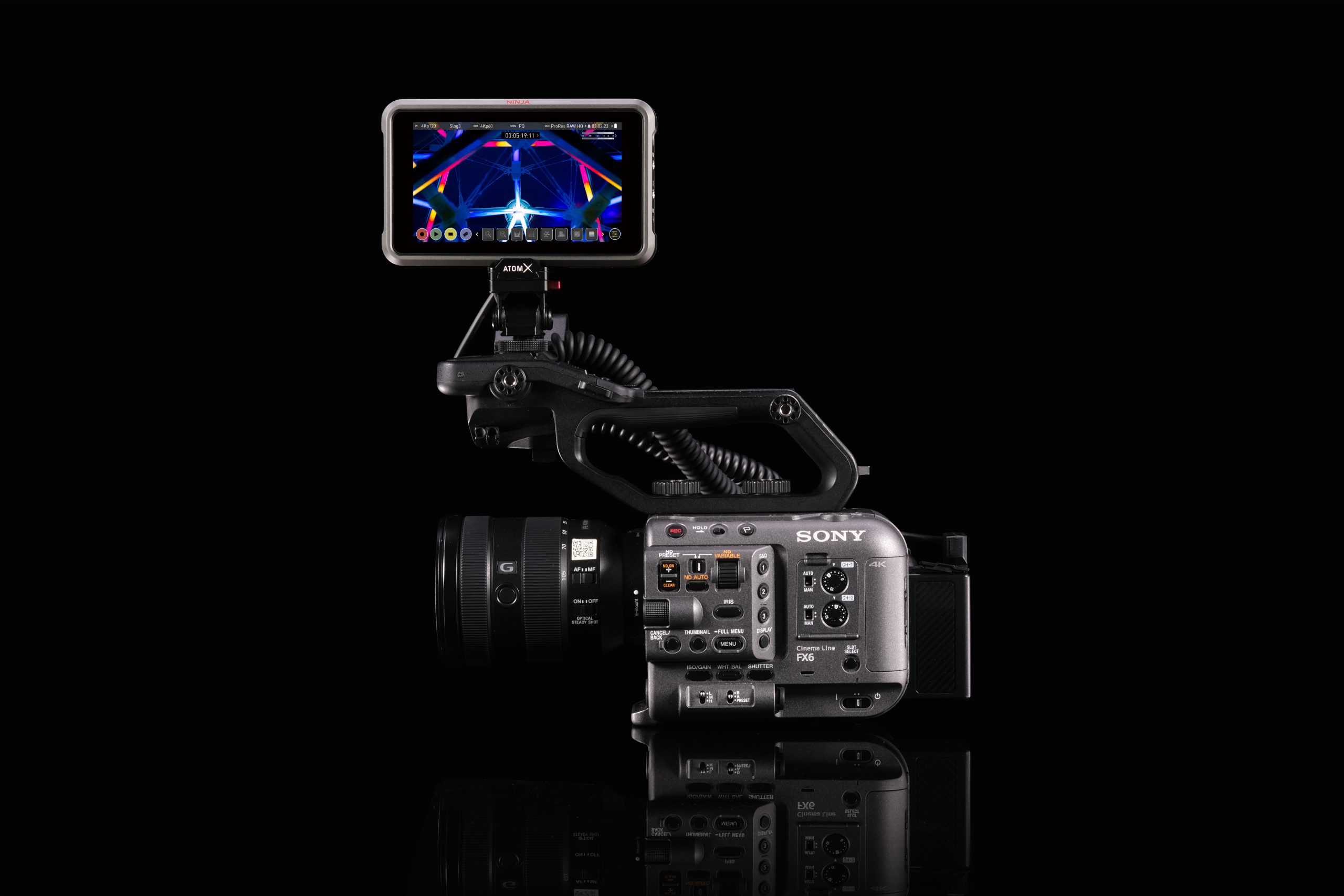 Professional Accessories
Combined with the AtomX SDI module and some serious tuning under the hood, the Pro Kit provides the ability to record RAW over SDI from some of the best compact cinema cameras on the market. No RAW, no problem. The Ninja V+ monitor-recorder is a flexible tool that can work as a HDMI/SDI ProRes monitor-recorder.
Worry less when it comes to battery management and excess weight as the Pro Kit is designed to be powered via DTap from your camera battery or rig, and can also use a battery eliminator for studio power. Pro Kit also includes a AtomX 5" Sunhood providing increased monitoring options outdoors and reduced ambient light for when monitoring in HDR.
SDI
Powerful & versatile I/O
Adding dual 12G SDI connectivity expands the compatibility with other cameras to provide off board 10-bit 422 recording in edit ready codecs or as proxy files from RED or ARRI cameras allowing the file naming and timecode to also be applied to the recorded files. And of course, the Ninja V+ also provides support for RAW over HDMI from our ever-growing roster of mirrorless cameras including the Sony Alpha 7S III, Z CAM E2 Series, Nikon Z Series, LUMIX S Series, Olympus OM-D EM-1X, Olympus OM-D M1 MkIII and more.
The Flexibility to Suit any Production
In playback mode the Ninja V+ Pro Kit provides a lossless signal distribution with 2 x 12G SDI and 1 x HDMI 2.0 for simultaneous outputs up to 4K p60. When used in combination with the Ninja's playlist functionality it provides a fast and convenient way to review content or show a highlight reel. RAW inputs can also be de-bayered in real time and non-standard high resolutions are processed to SMPTE standard output formats. Convert to HLG, PQ or your choice of 3D LUT can also be applied allowing for RAW or LOG content to be viewed with the correct application of artistic intent.
HDMI-to-SDI cross conversion
Adding the SDI module to the Ninja V+ Platform more than doubles it's I/O functionality. To complement the inputs, HDMI or SDI connections can be cross converted, DCI cropped and 4k to HD down converts for video signals to provide a bridge between equipment such as EVFs, wireless TX/RX without the need for additional convertors.
The ProRes RAW Advantage
ProRes RAW is now firmly established as the new standard for RAW video capture, with an ever-growing number of supported HDMI and SDI cameras. ProRes RAW combines the visual and workflow benefits of RAW video with the incredible real-time performance of ProRes.
The format gives filmmakers enormous latitude when adjusting the look of their images and extending brightness and shadow detail, making it ideal for HDR workflows. Both ProRes RAW, and the higher bandwidth, less compressed ProRes RAW HQ are supported.
Manageable file sizes speed up and simplify file transfer, media management, and archiving. ProRes RAW is fully supported in Final Cut Pro, Adobe Premiere Pro, Avid Media Composer 2020.10 update, along with a collection of other apps including ASSIMILATE SCRATCH, Colorfront, FilmLight Baselight and Grass Valley Edius.
The Pro Kit offers 3 ways
to power your Ninja V+
• In the Studio you can use the included DC power supply with lockable jack to connect to the Ninja V+ and with the international power plugs you'll be covered wherever your work might take you.
• On-set via the included DTap cable to connect to your choice of battery with a DTap output meaning your camera rig can run from a single power source.
• On the move with a compact rig you also have the choice to run the Ninja directly from an optional NPF battery or any 4 cell NPF you might have in your kit bag.
Ninja V+ Pro Kit
What's in the box?
Ninja V+ unit (RAW over SDI Pre-Activated), H.265 (HEVC) codec Pre-Activated, AtomX SDI module, EVA Carry Case, 5″ Slip Case, Battery Eliminator, International DC Power Supply, 1 x Master Caddy II, 1 x DTap Cable, 1 x AtomX 5″ Sunhood, Quick Start Guide.
Ninja V+ Pro Kit
Available July 2021
Please note:
Specifications are subject to change without notice.
All information correct at time of publishing.
BUY NOW