INTRODUCING
Ninja Stream
The incredibly powerful Ninja Stream was designed specifically to overcome the challenges of today's socially distanced productions and is a 5" 4Kp60 HDR Monitor-Recorder-Streamer with HDMI I/O, 5.8G Wi-Fi, 1G Ethernet and USB-C 3.0 to usher in a new era of streaming on productions without the need for any computers.
High quality Log or HDR video feeds can be simultaneous recorded in both ProRes and H.265/4 to the Ninja's SSD. The Ninja Stream also allows you to output a variety of formats to the SSD, over Wi-Fi and Ethernet and to the cloud at the same time including 4KDCI, UHD, HD and 720p. Standards conversion allows you to up convert and down convert between resolutions as well.
Live distance production starts with the 5.8G Wi-Fi, allowing H.265 10-bit 422 HDR to be remotely monitored at up to 300m in HD or 75m in 4K. This can be received on a companion Ninja Stream, and output to any monitor over the HDMI out in 4K or instantly connected to phones and tablets for client and stakeholder viewing on-set.
Read more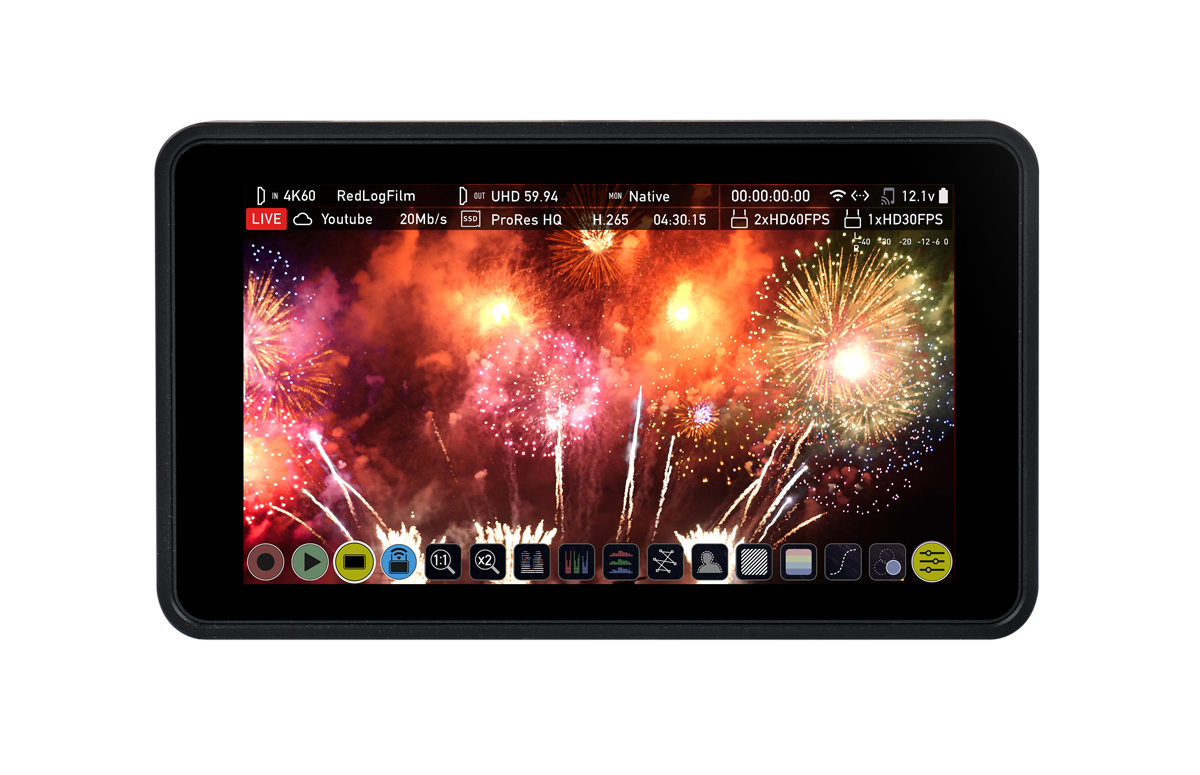 USE CASES
Stream your own way
The powerful streaming options allow for up to 8 Streams at 720p over each connection of WiFi x 1, Ethernet x 2 and USB 4G/5G* x 1 ( At 4Kp60, 4 streams can be achieved).
The network preset configurations are categorized in the menu system as One-to-One, Many-to-One, One-to-Many, Many-to-Many. These can facilitate direct streaming to cloud platforms or to other networked devices.
One-to-One
Stream up to 4Kp60 10-bit HDR quality, direct to Cloud, Computers, Apple TV, iPhones, iPads, Android devices** or another Ninja Stream.
Many-to-One
Quad-view mode for directors, allowing multiple Ninja Stream sources to be viewed from a single Ninja Stream for monitoring.
One-to-Many
Stream from one Ninja Stream to other devices over Wifi, Ethernet and 4G/5G* simultaneously.
Many-to-Many
Access any device from any connected device on set – Cloud, Computers, Apple TV, iPhones, iPads, Android devices** or another Ninja Stream.
* 4G/5G mobile network connections require a phone or USB Mobile Network Dongle.
** App required to receive stream.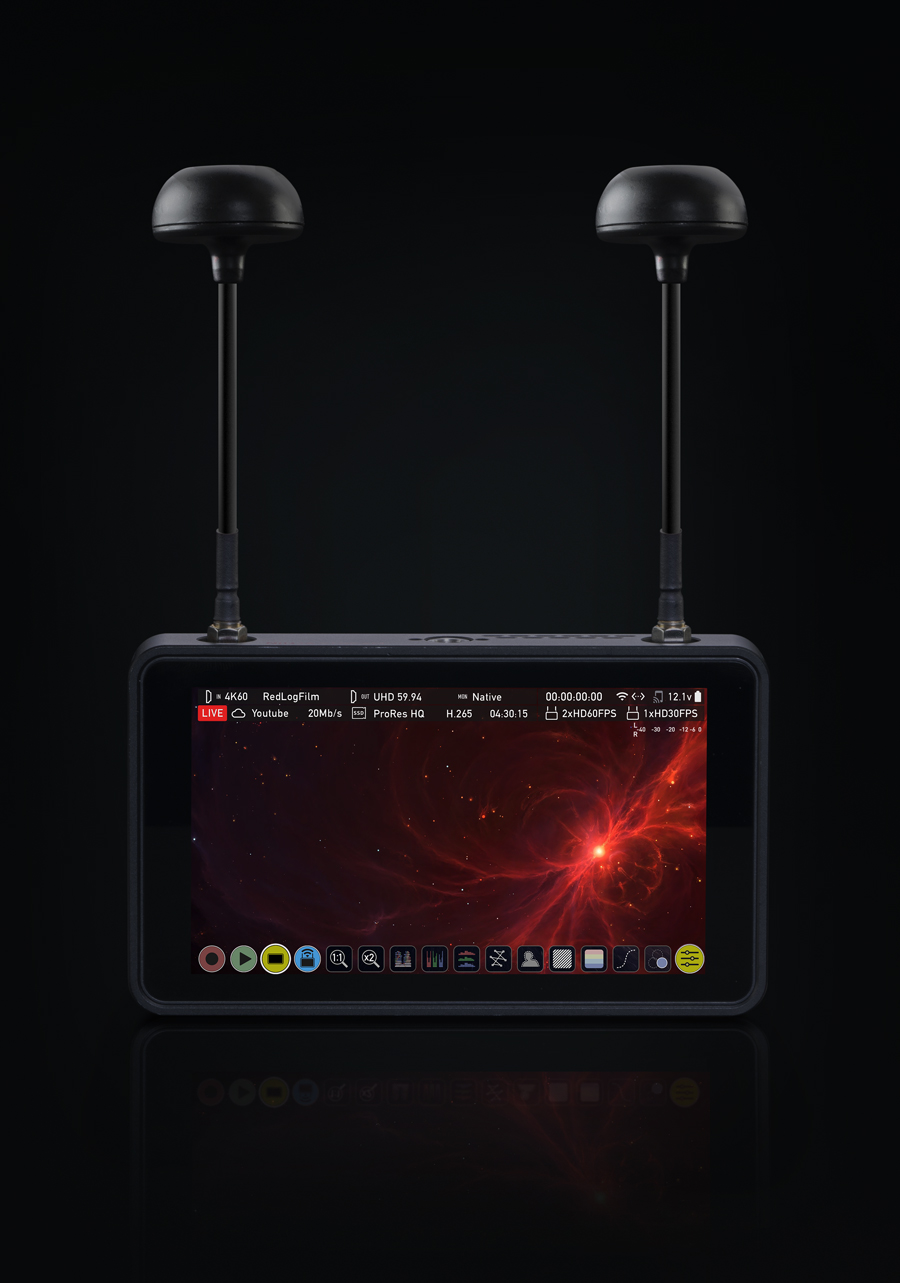 Livestream directly to YouTube and Facebook
One-to-One
One of the most incredible features of the Ninja Stream, is the ability to stream directly to your platform of choice without the need for a computer. This makes streaming setups so much simpler and is also perfect for streaming your gameplay from a PC or gaming console.
When quality is a priority, you can stream your video feed via Ethernet as the Ninja Stream outputs up to 200mBits/sec or max of 1Gbe via a router into high speed, low latency, long range networks or simply direct to a Mac/PC.
Faster. Further. No computer required.
The Ultimate Directors' Monitor
Many-to-One

Monitor up to 4 Ninja Streams at once in Multiview mode
As a standalone product the Ninja Stream dramatically simplifies professional live streaming and virtual collaboration, when 4-to-1 viewing is enabled, your Ninja Stream turns into a mobile 4 camera TV studio.
On multicamera productions, the central Ninja Stream becomes the hub for monitoring, and allows the director to simultaneously view 4 separate camera sources that each have a Ninja Stream attached. The 'plug and play' nature of the Ninja Stream, means that you can use mixed frame rates and resolutions on connected cameras for monitoring, as they will be automatically synced.
LIVE MONITORING
Share with others
on set via Wi-Fi and Ethernet
One-to-Many 
The Ninja Stream facilitates on-set collaboration during a time when social distancing on-set is of paramount importance for the health and safety. The removable antennas add 5.8Ghz Wi-Fi with Dual MIMO 802.11a/c/g for local streaming in high quality and low latency. From a single Ninja Stream, users can output 10-bit 4Kp60 HDR with only one frame delay to four separate devices.
These features mean that clients, directors and crew can all be kept apart but still part of the action. Streaming to 4 devices allows Directors to use additional Ninja Streams to review shots with the on-board scopes whilst concurrently streaming to the iPhones of clients and crew, providing an extremely affordable solution for COVID-friendly monitoring on productions.
EDIT + PROXY
Simultaneous Codec Recording
Record an editing codec like Apple ProRes HQ whilst recording an H.265 or H.264 proxy version at the same time. Both the edit and proxy files will share file names and timecode to facilitate the proxy workflow in post-production.
The 10-bit H.265 file provides excellent image quality with a small file size, whereas the 8-bit H.264 file provides compatibility with legacy consumer and video equipment – yes you can monitor on your 2010 iPhone or Android device.
The excellent image quality is maintained on the disk, and small file sizes mean you can share or deliver your files immediately after a shoot in their pristine form. Uploads are fast, and viewing compatibility is high on the receiving device.
Choose the codecs that best suit your requirements
Edit & Proxy Record

Simultaneously
HDR / SDR
Monitoring and Recording
In addition to all of these incredible features, you also have all of the amazing features of the award-winning Ninja V, which gives you a rock-solid monitor-recorder that records to affordable SSD media with class-leading high brightness HDR monitoring technology.
The 5.2" 1920 x 1080 LCD IPS screen boasts 1000nits output for daylight use, whilst the AtomHDR engine allows users to see Log images in High Dynamic Range or load creative LUTs at the touch of a button. In terms of scopes, Ninja Stream gives you all the critical monitoring tools you need, including histogram, false color, focus peaking, 1x and 2x zoom magnification, waveform, RGB parade, Vector scope, zebra, Cine frame guides, anamorphic de-squeeze and more. The scopes can be used during playback for critical footage review and both playout and loop through is possible for review on larger screens. The build quality is what you would expect from Atomos with an Aluminium body and active cooling system on board to ensure you are never let down in the field.
Ninja Stream allows you to record up to 4Kp60 in either Apple ProRes (Proxy, LT, 422, HQ), H.264 (up to 8-bit) or H.265 (up to 10-bit). These compressed codecs give users more flexibility with recording times and reduces the media cost during capture, backup and archiving.
PRO MONITORING

Access All Areas
Ninja Stream offers a huge range of features that can enhance your workflow, from AtomOS Monitor Assist features like Focus Peaking, Zoom, Vectorscopes &  False Color through to Anamorphic Desqueeze and our AtomHDR processing engine that allows realtime Log>PQ/HLG previewing and more. Customisable settings & view modes — and instantly clear all overlays with a simple touch of the screen. Take control of your production at capture with Atomos Ninja V.
Focus Peaking
Customizable
Monitoring and composition essentials
One-touch operation gives you access to a complete suite of exposure and focus tools. False color, focus peaking and movable 1:1 and 2:1 pixel magnification. In addition, RGB parade and vectorscopes ensure perfect color and exposure no matter what you're working on. You even have the ability to load, preview and 'bake in' 3D LUTs.
Lock the shot with Ninja Stream's monitoring and composition essentials.
Safe Areas

TV / Screen Guides

Frame Guides

SMPTE standards
SSD MEDIA
Break through the time barrier
Shooting 4K and above in  like ProRes requires storage media with ample volume, fast transfer times and high, sustained read and write speeds.
AtomX SSDmini drives are perfectly suited to the Ninja Stream digital workflow. Smaller than conventional SATA SSDs they are an affordable professional alternative to recording to a camera's internal memory cards. Offering up to 2TB storage, a sequential read speed of up to 550MB/s and write speed up to 500MB/s, these drives can record up to 150 minutes of 4K ProRes on a single drive. Measuring 8cm long, 7.5cm wide and weighing as little as 88g, the custom built drives neatly fit the Ninja Stream's compact proportions.
Fast. Reliable. Compact. Rugged.
CFast Media

CFast 2.0 Ready Adapter
Ninja Stream
Initially the Ninja Stream, due to its premium price point, will be sold into the big production rental market. The technology underpinning it will be cut down and incorporated in future Ninja Platform products for the pro video and consumer markets.
POA.
 USD
Excludes local taxes.
Please note:
Specifications are subject to change without notice.
All information correct at time of publishing.
ENQUIRE NOW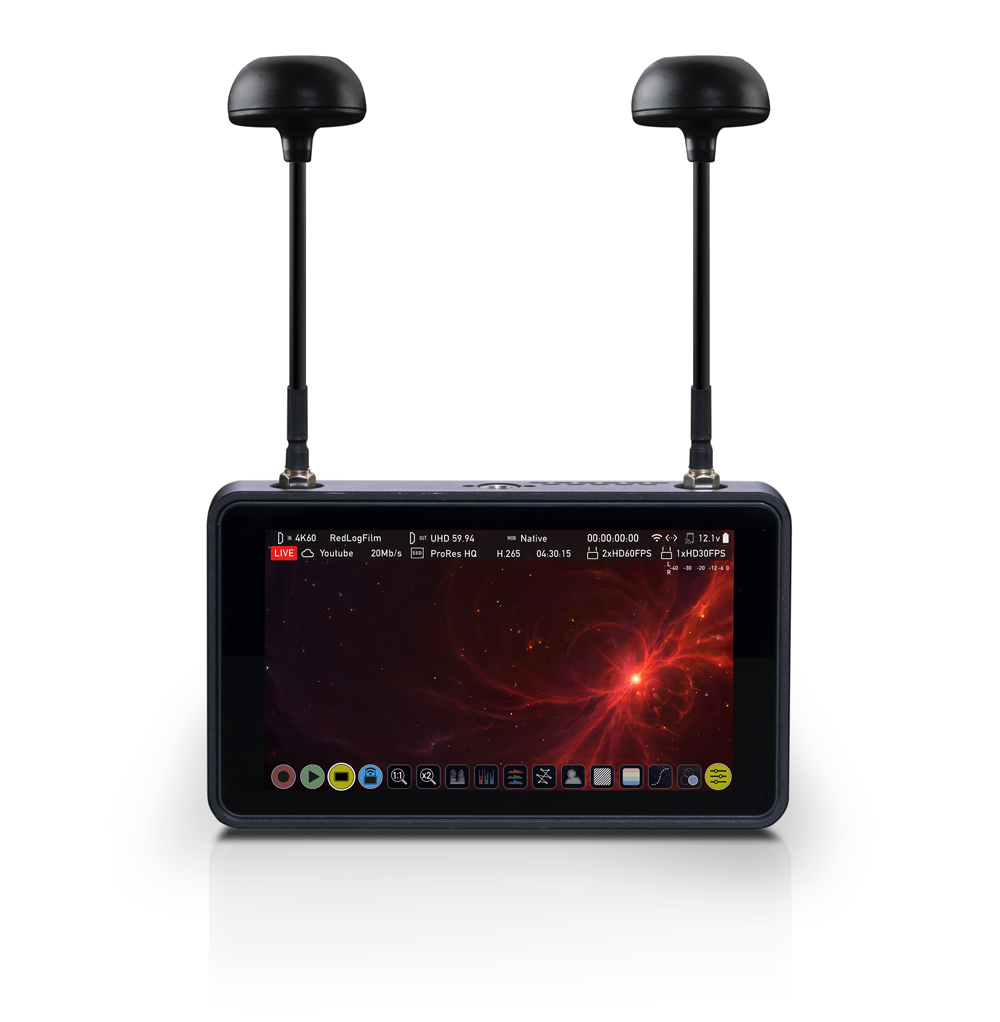 Related products
These Atomos product provide similar features. Try the COMPARE PRODUCTS feature to find out more.
Spark a creative journey.
Join the Atomos Community.