Loyalty
Offer
Upgrade to 8K
NINJA V+ PRO KIT
Save $500!
DON'T MISS OUT
Exclusive Offer to owners of Atomos 7" Monitors
Shogun, Shogun Flame, Shogun Inferno, Shogun 7, Ninja Inferno, Ninja Flame & Ninja Assassin!
Thank you to our loyal family of Atomos users for your continued support. To show our appreciation we're giving you the opportunity to save $500 (USD/EUR) / $600 (AUD) with the purchase NINJA V+ PRO KIT.
Now is the time to expand your production capabilities. Ninja V+ is the latest and most advanced Atomos Monitor-Recorder, bringing the ability to capture incredible 8K ProRes RAW and jaw dropping 4K 120p ProRes RAW from selected cameras. With the PRO KIT you're ready to record from almost any camera, from compact HDMI mirrorless to professional SDI cameras from SONY, RED, ARRI, Panasonic and more. Ninja V's ultra reliable recording and monitoring is now future proof and SDI-ready. The Ninja V+ Pro Kit comes complete with a selection of handpicked accessories to elevate your experience straight out of the box.
Pictured below: Ninja V+ Pro Kit captures stunning 4K 120p in 12-bit ProRes RAW from the popular Sony FX6. View footage.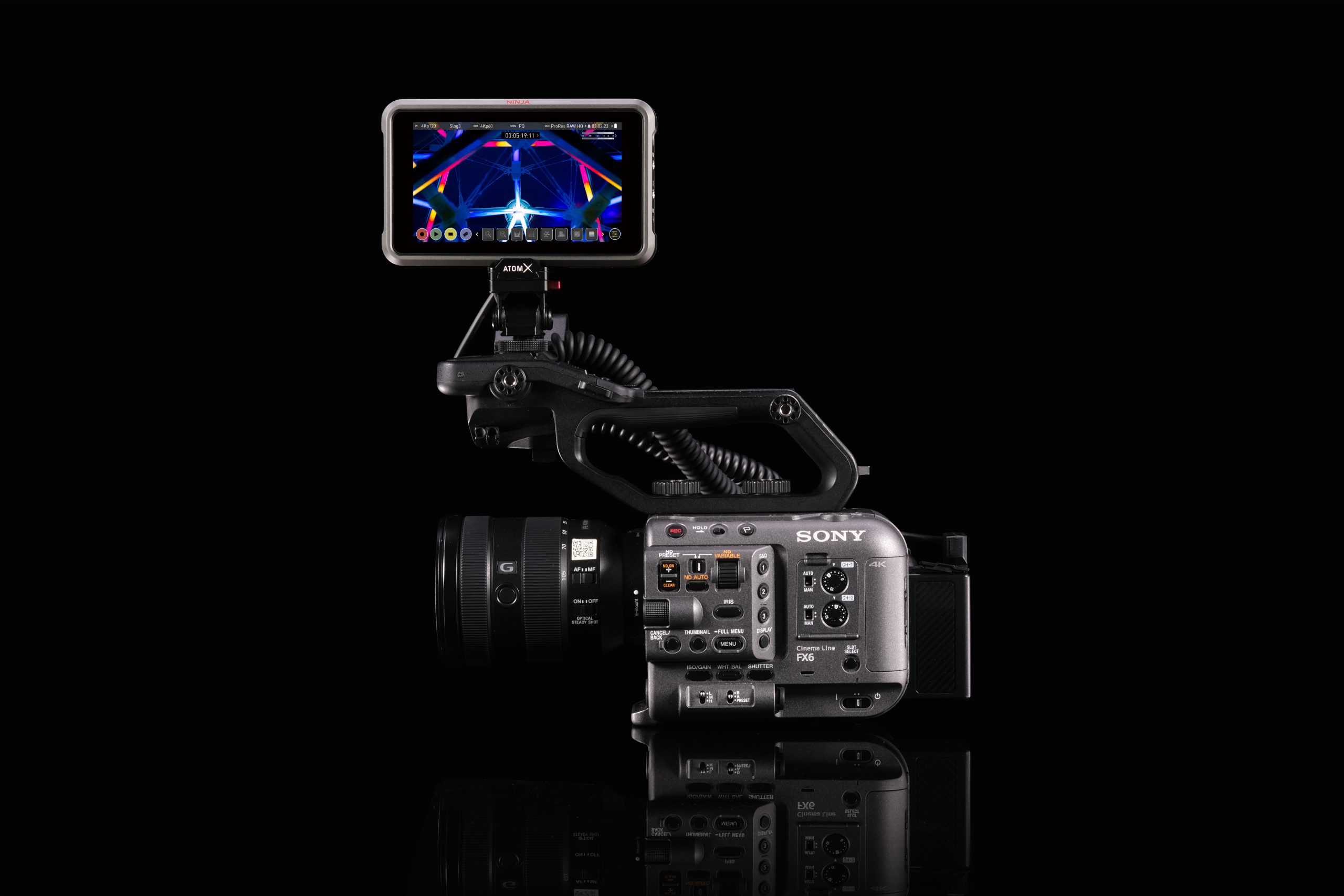 How to Redeem
your Voucher
To take advantage of this offer, existing Shogun, Shogun Flame, Shogun Inferno and Shogun 7 owners as well as those with the Ninja Inferno, Ninja Flame and Ninja Assassin will be able to claim a $500EUR/USD / $600AUD discount voucher by having a registered device at my.atomos.com. Those who have already registered their device can instantly generate their unique PDF voucher once logged into the my.atomos.com dashboard.
Once downloaded, this voucher can be redeemed at any authorised Atomos reseller. The QR code will be scanned by your chosen authorised Atomos reseller  to redeem the voucher against your order. Please DO NOT SCAN THE QR CODE  as this will invalidate the voucher and prevent you from redeeming it with an authorised reseller.
Offer ends September 30, 2021.
* Full terms and conditions here.
Limited time only. 20th August until 30th September 2021.
REGISTER and DOWNLOAD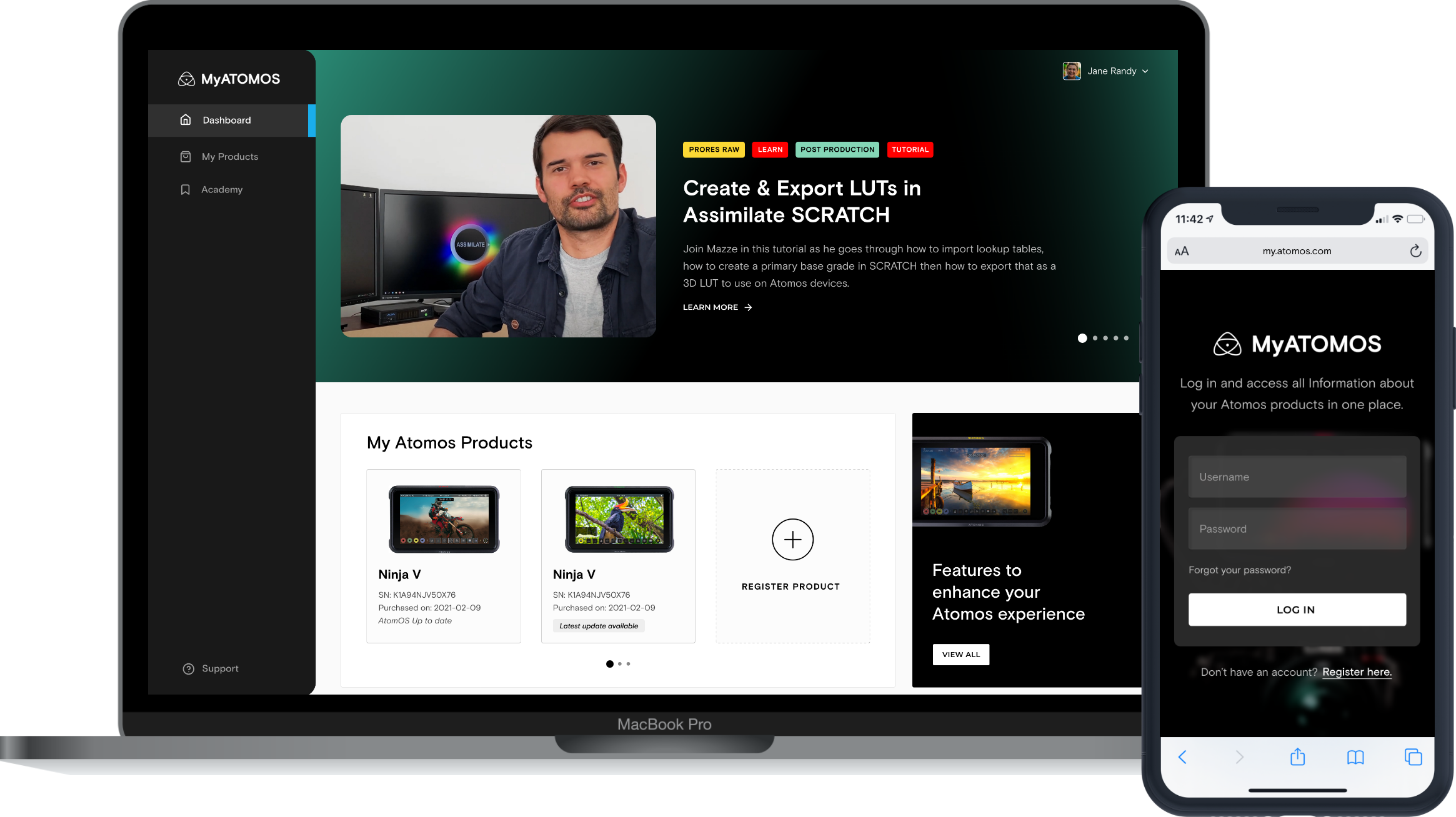 FAQs

Where can I find the voucher?

I have not registered my product - can I still get a voucher?

Do I need to return my existing unit?

I recently bought a Ninja V/Ninja V+. Can I use this offer to upgrade to Ninja V+ Pro Kit?

I own more than one of the qualifying products - can I have two vouchers?

How do I use the QR code?

Voucher / QR code:

How do I provide my reseller with the QR code/voucher?

Where can I find my nearest authorised Atomos reseller?

What is the discount amount in my local currency?
NINJA V+ PRO KIT
What's in the box?
Ninja V+ unit (RAW over SDI Pre-Activated), AtomX SDI module, H.265 (HEVC) codec, EVA Carry Case, 5″ Slip Case, Battery Eliminator, International DC Power Supply, 1 x Master Caddy II, 1 x DTap Cable, 1 x AtomX 5″ Sunhood, Quick Start Guide.
VIEW PRODUCT PAGE
LEVEL UP
The world's first
8K RAW HDR
monitor-recorder
The Ninja V+ is the next stage in the evolution of the multi-award winning Atomos Ninja, delivering up to 8Kp30 and 4Kp120 continuous recording in Apple ProRes RAW while inheriting HDR, 4Kp60 RAW and video as well as HDp120 slow motion from it's multi-award winning predecessor, Ninja V.
Ninja V+ allows you to stay ahead of the game and ensure that you have the flexibility to grow your system as projects demand. Future proofed quality and formats allow you to stay compatible with newly released and existing cameras, in a world where new cameras are released frequently and technology is advancing at an incredible pace.
NINJA V+
IMPROVED WORKFLOW
Ninja V+ Advantage
The Ninja V+ Pro Kit has been designed to bridge the gap between compact cinema and mirrorless cameras that can output RAW via HDMI or SDI. With all the power of the Ninja V+ for 8Kp30, the Pro Kit adds 4Kp120 and 2Kp240 continuous recording via SDI. The Ninja V+ takes advantage of new Atomos Silicon AtomIC3, AtomOS 10 and the incredible efficiency of ProRes RAW to deliver these increased resolutions and frame rates. The new formats also integrate seamlessly into the timeline of your existing ProRes RAW or ProRes projects, without huge storage or processing overheads.
LEARN MORE
HIGH FRAME RATE
See the unseen
Capture the unseen with amazing 4Kp120 recording in ProRes RAW from the Ninja V+ and Sony FX6/FX9 and Z CAM E2 /E2-M4 models, with more models to follow. Fully harness the dynamic range of the sensor, capture every aspect of motion and movement directly via RAW over SDI* or HDMI. Add to this the benefit of being able to play back the high frame rate video captured on the Ninja V+ at various playback speeds. Explore footage captured in these cameras at Atomos Academy.
*The FX9 requires the XDCA-FX9 Extension unit and both the FX6 and FX9 require the AtomX SDI module with RAW activation (or the Pro Kit).
ATOMOS ACADEMY
VERSATILE
3 ways to
power your Ninja V+
In the Studio you can use the included DC power supply with lockable jack to connect to the Ninja V+ and with the international power plugs you'll be covered wherever your work might take you.
On-set via the included DTap cable to connect to your choice of battery with a DTap output meaning your camera rig can run from a single power source.
On the move with a compact rig you also have the choice to run the Ninja directly from an optional NPF battery or any 4 cell NPF you might have in your kit bag.
Download voucher at my.atomos.com
Simply log-in, or register your existing device via my.atomos.com to download.
MY.ATOMOS.COM
Locate Authorized Resellers
This offer is available through all authorized Atomos Resellers.
Ensure you have downloaded your discount voucher prior to purchase.
*Full terms and conditions here.
WHERE TO BUY